Basic weld flaw evaluation
A set of small lightweight and convenient to handle welds specimens, each containing either one or two flaws with a minimum of 18 flaws per set. The sets are designed for practical training, to provide an introduction to flaw detection, sizing and interpretation.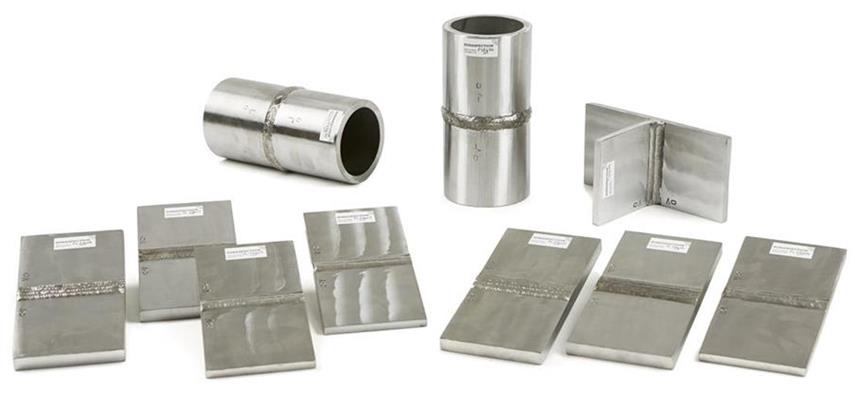 Recommended for
Introduction to basic flaw detection
Introduction to basic flaw sizing
Introduction to basic flaw interpretation
Simple weld geometries
Set content
10 small flawed specimens
Average 18 real flaws
Flaw location details
Testing and acceptance criteria
Certificate of conformance
Methods
Ultrasonic testing (FS-CS-01) – 28 KG/62 lbs
Magnetic Particle (FS-CS-03) – 15 KG/33 lbs
Penetrant Testing (FS-CS-04) – 15 KG/33 lbs
Visual Testing (FS-CS-02) – 15 KG/33 lbs
Radiographic Testing (FS-CS-05) – 28 KG/62 lbs
Each set is presented in a durable polypropylene case with high density black molded inserts.
MT/PT & VT SET CONTENTS: cm (inch)

| | | | |
| --- | --- | --- | --- |
| Description | Thickness | Width | Length |
| 7 Plates | 0.6 (1/4) | 10 (4) | 20 (8) |
| 3 Trees | 0.6 (1/4) | 10 (4) | 20 (8) |
RT SET CONTENTS: cm (inch)

| | | | |
| --- | --- | --- | --- |
| Description | Thickness | Width | Length |
| 4 Plates | 1 (3/8) | 10 (4) | 20 (8) |
| 4 Plates | 1.5 (5/8) | 10 (4) | 20 (8) |
| 2 Pipes | 1 (3/8) | 10 (4) | 20 (8) |
UT SET CONTENTS: cm (inch)

| | | | |
| --- | --- | --- | --- |
| Description | Thickness | Width | Length |
| 1 Tee | 1 (3/8) | 10 (4) | 20 (8) |
| 3 Plates | 1 (3/8) | 10 (4) | 20 (8) |
| 4 Plates | 1.5 (5/8) | 10 (4) | 20 (8) |
| 2 Pipes | 1 (3/8) | 10 (4) | 20 (8) |
INDIVIDUAL SPECIMENS DIMENSIONS: cm (inch)
Specimen
Thickness
Width/Dia
Width/Dia
Length
MT/PT & VT
RT & UT
Pipe (SV)
1 (3/8)
–
10 (4)
20 (8)
No
Yes
Pipe (SV)
1.8 (3/4)
–
10 (4)
20 (8)
No
Yes
Tee (SV)
0.6 (1/4)
10 (4)
–
20 (8)
Yes
No
Tee (SV)
1 (3/8)
10 (4)
–
20 (8)
No
Yes
Plate
0.6 (1/4)
10 (4)
–
20 (8)
Yes
No
Plate
1 (3/8)
10 (4)
–
20 (8)
No
Yes
Plate
1.5 (5/8)
10 (4)
–
20 (8)
No
Yes
Plate
2.5 (1)
15 (6)
–
25 (10)
No
Yes
MATERIALS

| | | | |
| --- | --- | --- | --- |
| Set type | Carbon Steel | Stainless Steel | Aluminium |
| Ultrasonic | Yes | Yes | Yes |
| Visual | Yes | – | – |
| Magnetic | Yes | – | – |
| Penetrant | Yes | Yes | Yes |
| Radiographic | Yes | Yes | Yes |
SPECIMEN DETAILS: cm (inch)

| | |
| --- | --- |
| Description | Dimensions |
| Flaw length range | 1 (3/8) to 1.8 (3/4) |
| Flaw height range | 0.3 (1/8) to 0.6 (1/4) |
| Flaw size tolerance | ± 0.3 (1/8) |
| Specimen size tolerance | ± 15% |
| Specimen thickness tolerance | ± 10% |
| Specimen diameter tolerance | ± 10% |